Multi-band RTK GNSS receiver
with centimeter precision
Strumentazione disponibile a partire da agosto 2019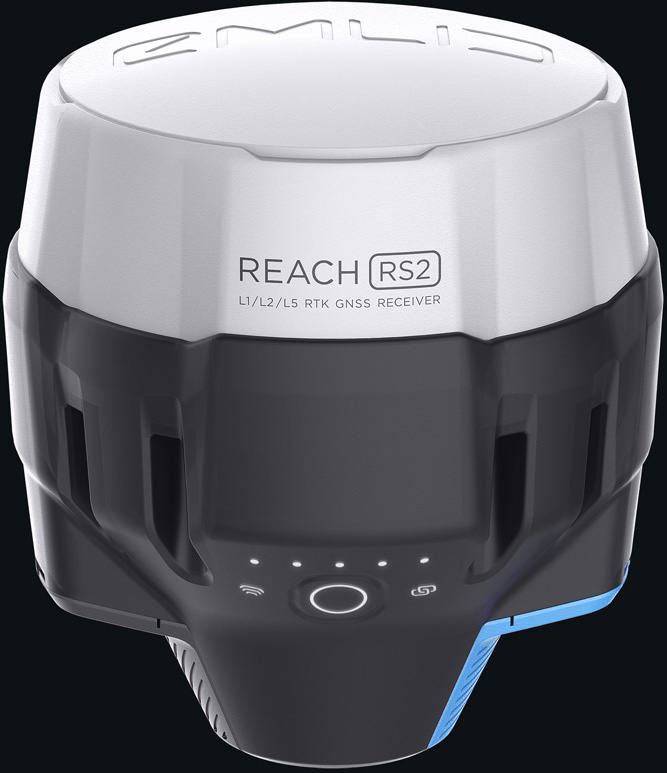 Multi-band
RTK GNSS
receiver
with centimeter
precision
Strumentazione disponibile a partire da agosto 2019
Reach RS2 gets fixed solution in just seconds and maintains robust performance even in challenging conditions. Centimeter accuracy can be achieved on distances over 60 km in RTK, and 100 km in PPK mode.
GPS, GLONASS, BeiDou L1OF, L2OF, L1C/A, L2C
Galileo, QZSS and SBAS E1B/C, E5b, B1I B2I
RINEX raw data logs are compatible with OPUS, CSRS-PPP, AUSPOS, and other PPP services so you can now get centimeter-precise results in any place on Earth. Process RINEX files in an online service and get position with absolute accuracy.
Reach RS2 features a power-efficient 3.5G HSPA modem with 2G fallback and global coverage. Now corrections can be accessed or broadcasted over NTRIP independently, without relying on Internet connection on your phone.
Up to 22 hours of autonomous work when logging data and up to 16 hours as a 3G rover, even in cold weather—no more need to carry spare batteries with you. Reach RS2 can charge from a USB wall charger or a power bank over USB-C.
The easiest to use software for data collection that is available both for Android and iOS. With ReachView, you can collect and stakeout points and control all the features of Reach RS2. Setting up a base station, logging RINEX data, configuring NMEA output—all can be done in ReachView.
DXF, CSV, GeoJSON
and ESRI Shapefile
Create projects and save points with custom name and description. Set rules for data quality. Data collection is fast and intuitive, because ReachView is designed to feel like most popular map apps.
ReachView can guide you to any point like a navigator. On distance 50 cm from a point app's interface turns into bullseye view. Move the receiver to align bubbles on the screen, when interface turns green—you are on the point.
Record raw data, position and base correction logs.
Use Reach RS2 to set up your own base station. Stream corrections over the network via NTRIP/TCP or LoRa radio, record base logs for post-processing. Reach RS2 works with any amount of rovers and is compatible with Reach RS+ and M+.
Compatible with other receivers
Any receiver that supports RTCM3 and NTRIP. External radios are supported over RS-232.
Reach RS2 can send precise coordinates over Bluetooth or Wi-Fi to your tablet with a lightbar navigation app. RS-232 interface allows to connect Reach RS2 directly to an autosteer system.
MachineryGuide, AgriBus-Navi, Efarmer, Agripilot.
Reach RS2 is designed to work even in the most challenging environments.
RS2 is waterproof up to 1 m depth. All connectors are completely sealed and protected from water and dust with silicone plugs.
We extensively tested Reach RS2 in conditions that simulate coldest winters and hottest summers.
Polycarbonate, an extremely durable material that is used in bulletproof glass, makes Reach RS2 impact-resistant.
Rubber-like material that forms a shock absorber around the whole device. In a sophisticated manufacturing process, elastomer is permanently bonded to the polycarboante base. So if your bipod falls over, Reach RS2 will bump off, no marks left.
Precision CNC machined threaded mount is inserted during molding process and becomes one with plastic
Compared to FSK radios at the same power
LoRa Spread Spectrum modulation can work on distances up to 4 times longer compared to traditional FSK radios at the same power output. This gives Reach RS2 robust radio performance without sacrificing battery life. LoRa radio is used to connect rover to base when Internet-delivered corrections are not available.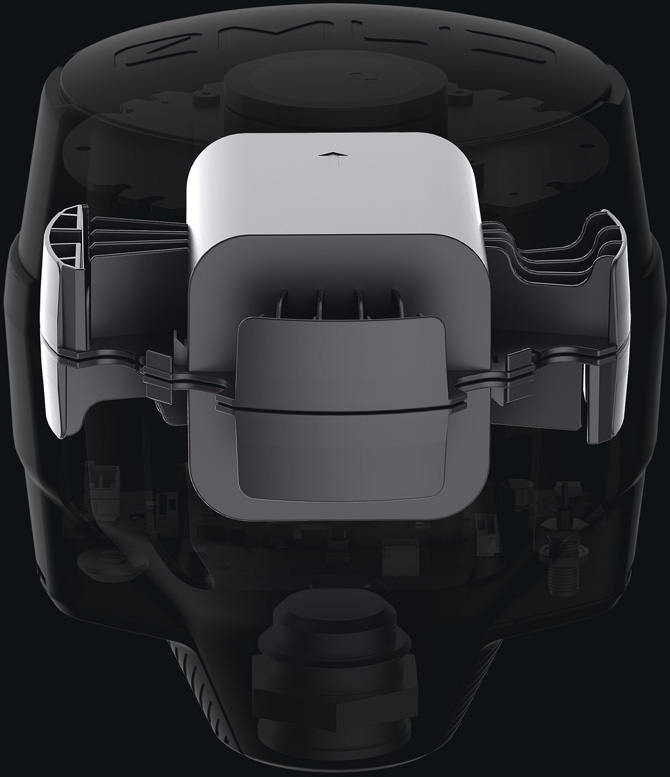 Industrial battery that handles well both high and low temperatures.
Reach RS2 charges from any USB port and power bank.
of charging and discharging while maintaining original capacity.
Reach RS2 works for up to 22 hours in static logging and up to 16 hours in RTK with cellular on. You don't need to worry about having spare batteries or replacing them in the field. Hot-swaps are a thing of the past.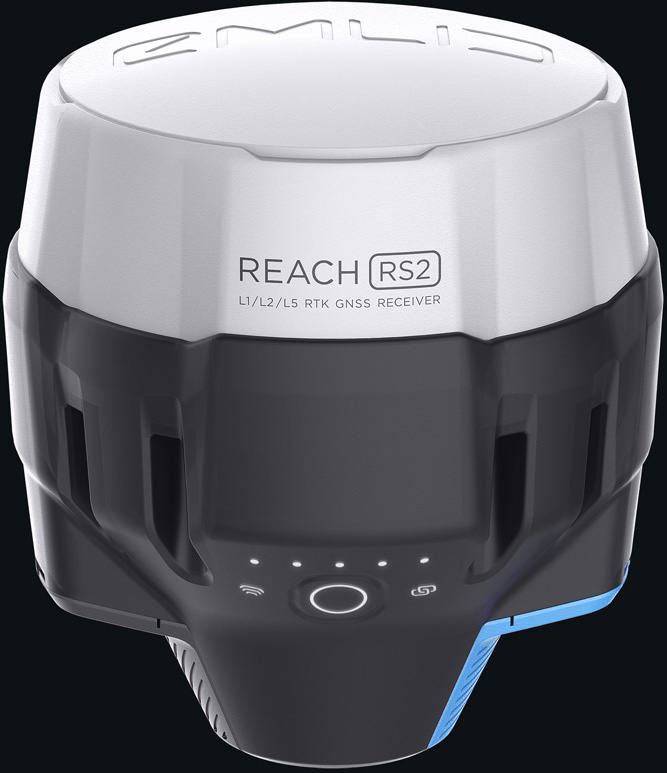 Weighs less than a typical survey pole
Reach RS2
is our biggest
release since
Reach RS
Reach RS2 is our biggest
release since Reach RS
Emlid delivered over 10 000 Reach RS RTK all around the world
From America and Canada to Europe, Africa and Asia. We can't even count in how many ways people used Reach RS in their projects. Reach RS and Reach RS+ gave access to centimeter-accurate RTK GNSS measurements to thousands of users all around the world.
With Reach RS2 we are finally making multi-band receivers affordable
Supporting multiple frequency bands, Reach RS2 fixes 10 times faster, works on longer baselines and supports PPP processing. Reach RS2 can also deliver centimeter accuracy in areas where Reach RS struggled: narrow city streets, forests, close to buildings and machinery.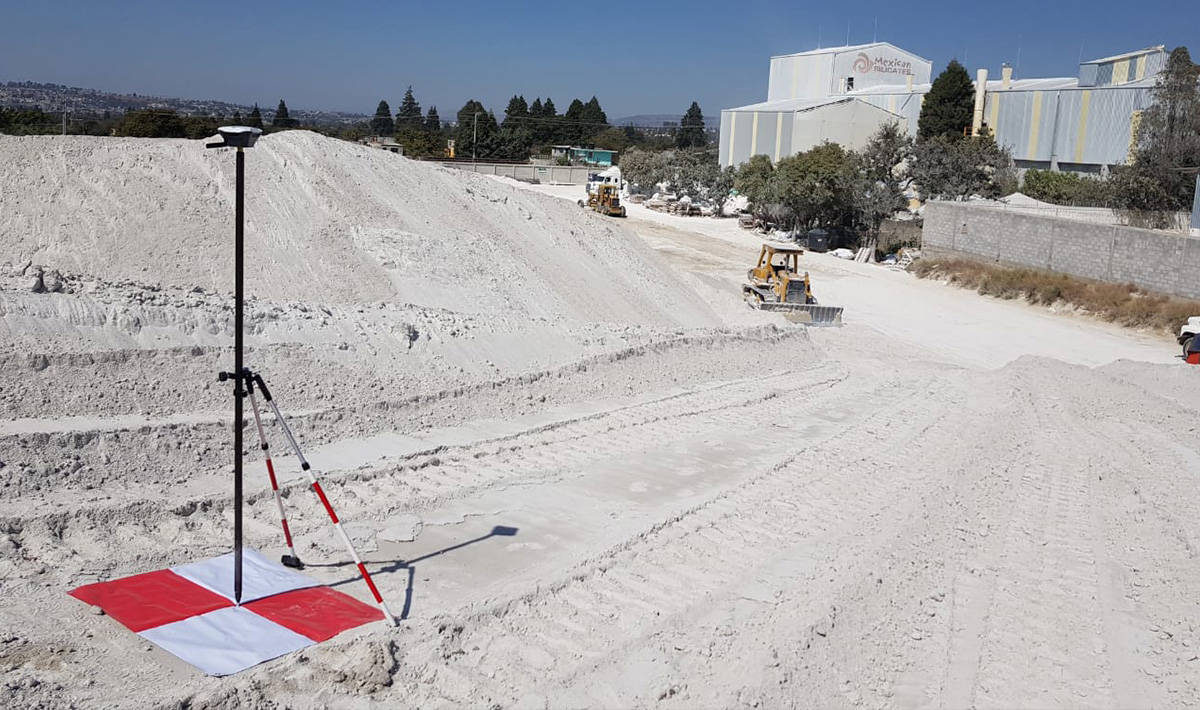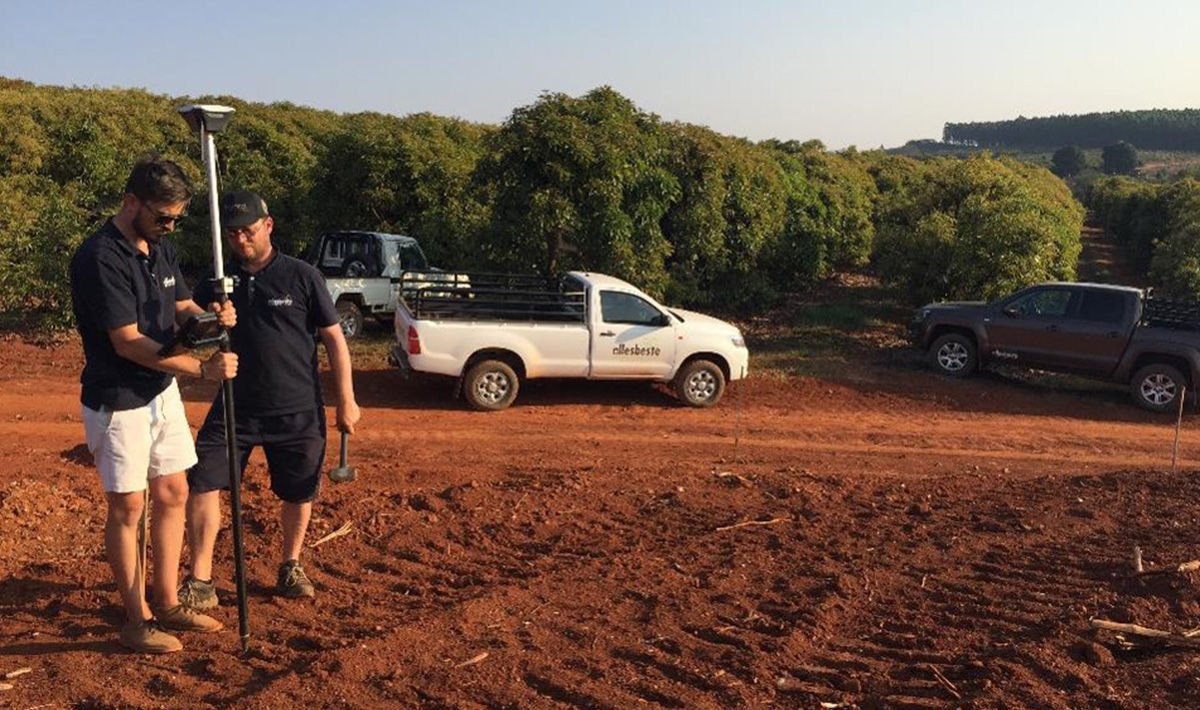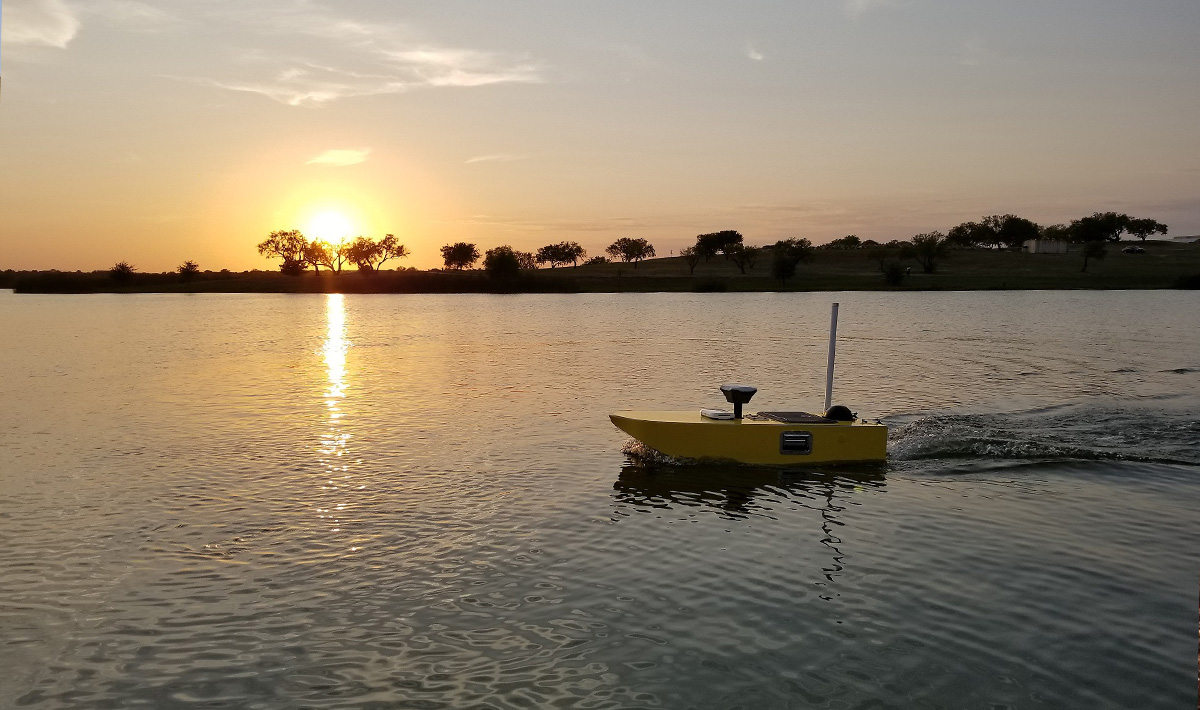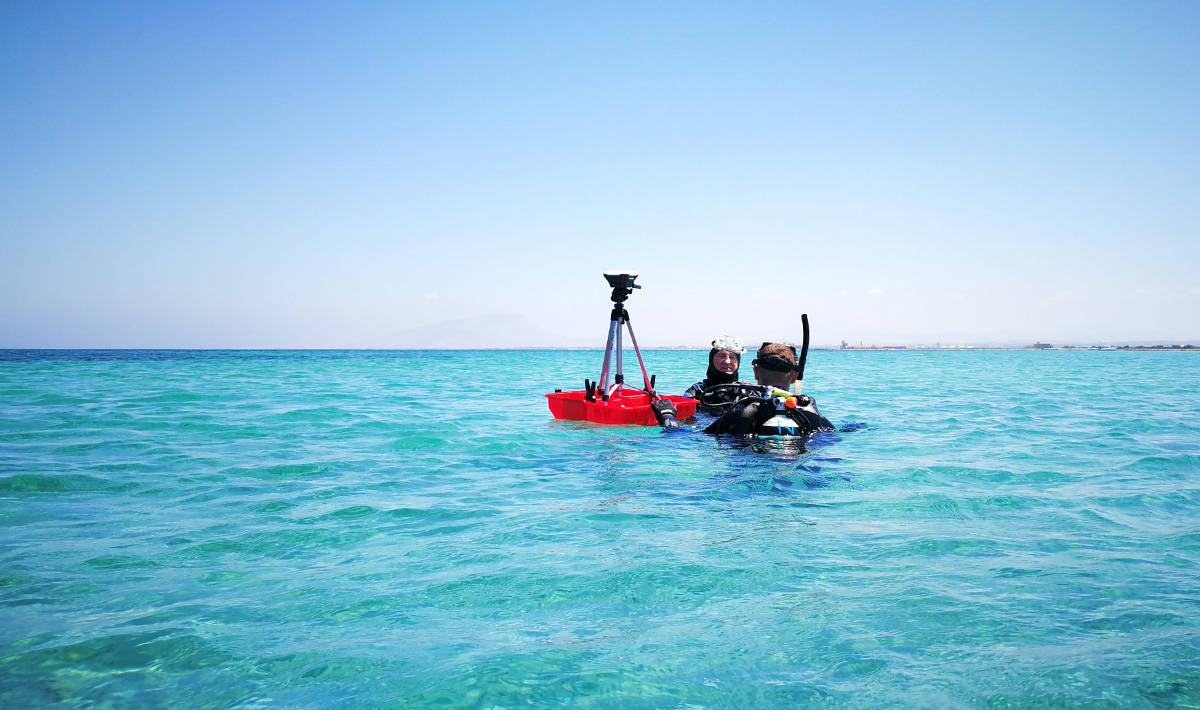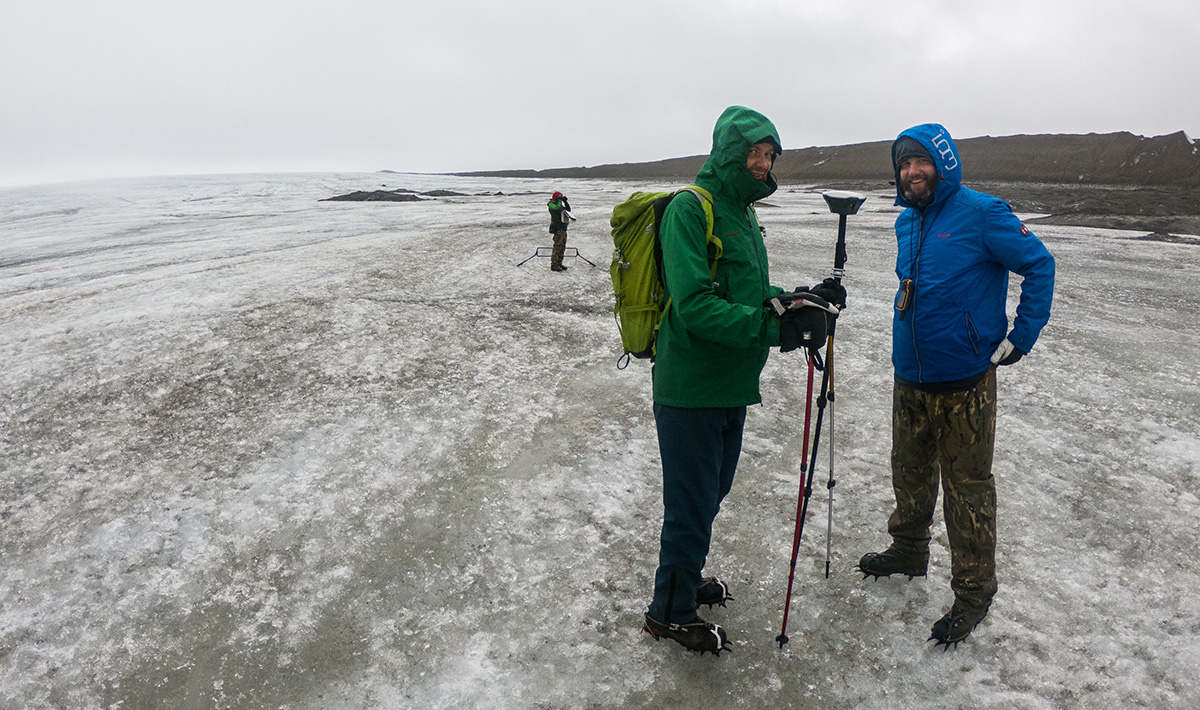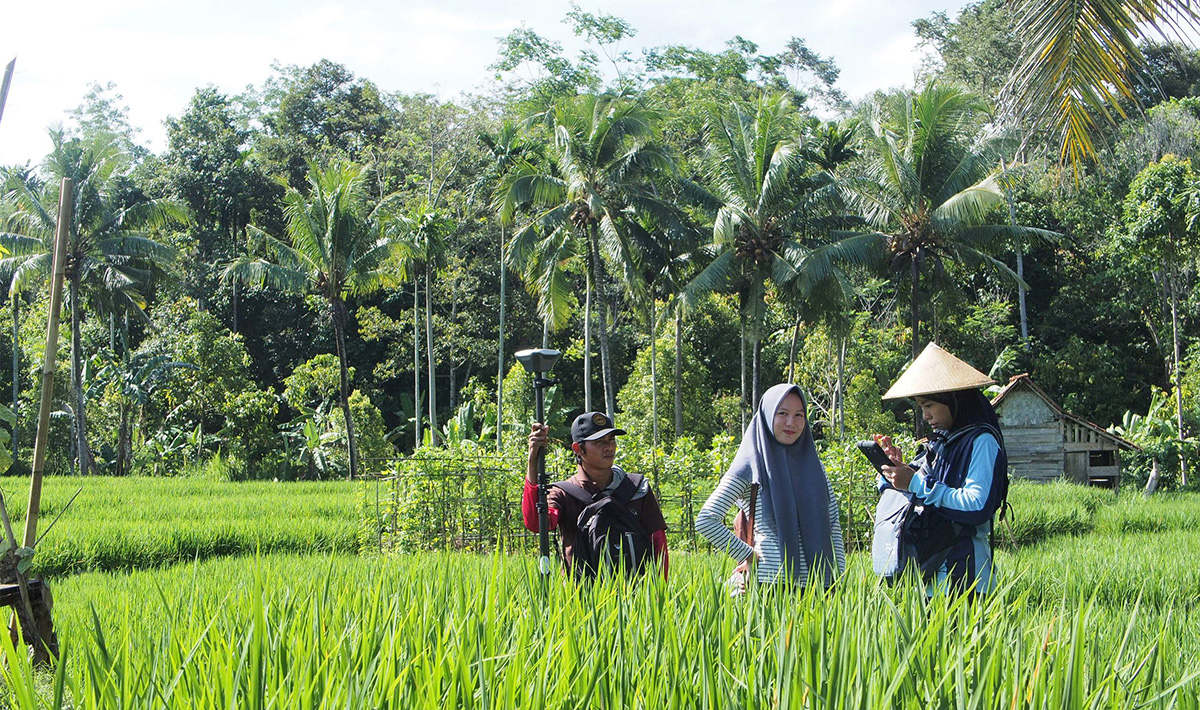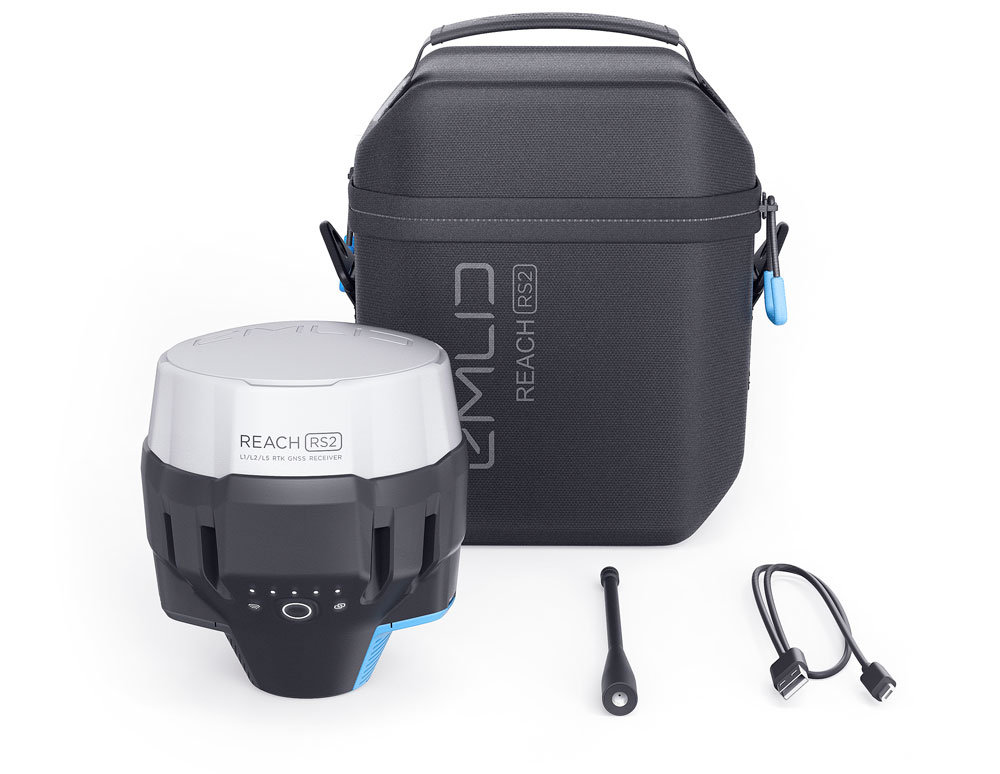 Package includes: Reach RS2, LoRa antenna, USB cable and carry case with a strap.
ReachView app and all features of Reach RS2 are already included in price and fully available.
Pre-order until the end of April
and save $100
Delivery from Hong Kong worldwide,
2-5 days by DHL, up to 3 weeks by airpost.
Support is always free and available to everyone. Emlid team will help with any question regarding troubleshooting, workflows, and orders.
Quickstart guides and comprehensive feature overview. Step-by-step tutorials covering most common applications.
Share your project or ask any question on Emlid community forum to get answers from experienced users and Emlid team.
Mechanical

Dimensions

126x126x142 mm

Weight

950g

Operating tº

-20…+65ºC

Ingress protection:

IP67

Electrical

Autonomy

16 hrs as 3.5G RTK rover,
22 hrs logging

Battery

LiFePO4
6400 mAh, 6.4 V

External power input

6-40V

Charging

USB Type-C 5 V, 2 A

Certifications

FCC, CE

Positioning

Static

H: 4 mm + 0.5 ppm
V: 8 mm + 1 ppm

PPK

H: 5 mm + 0.5 ppm
V: 10 mm + 1 ppm

RTK

H: 7 mm + 1 ppm
V: 14 mm + 1 ppm

Convergence time

~5 s typically

Connectivity

LoRa radio

Frequency range

868/915 MHz

Power

0.1W

Distance

Up to 8km

3.5G Modem

Regions

Global

Bands

Quad−band,850/1900,
900/1800 MHz

SIM card

Nano-SIM

WiFi

802.11b/g/n

Bluetooth

4.0/2.1 EDR

Ports

RS-232, USB Type-C

Data

Corrections

NTRIP, RTCM3

Position output

NMEA, LLH/XYZ

Data logging

RINEX with events with update rate up to 20 Hz

Internal Storage

16 GB, 160+ days of
logging at 1 Hz

GNSS

Signals tracked

GPS/QZSS L1C/A, L2C
GLONASS L1OF, L2OF
BeiDou B1I, B2I
Galileo E1-B/C, E5b
SBAS L1C/A

N° of channels

184

IMU:

9DOF

Update rates

20 Hz GPS / 5 Hz GNSS

IMU

9DOF
Mechanical

Dimensions

126x126x142 mm

Weight

950g

Operating tº

-20…+65ºC

Ingress protection:

IP67
Electrical

Autonomy

16 hrs as 3.5G RTK rover,
22 hrs logging

Battery

LiFePO4
6400 mAh, 6.4 V

External power input

6-40V

Charging

USB Type-C 5 V, 2 A

Certifications

FCC, CE
Positioning

Static

H: 4 mm + 0.5 ppm
V: 8 mm + 1 ppm

PPK

H: 5 mm + 0.5 ppm
V: 10 mm + 1 ppm

RTK

H: 7 mm + 1 ppm
V: 14 mm + 1 ppm

Convergence time

~5 s typically
Connectivity

LoRa radio

Frequency range

868/915 MHz

Power

0.1W

Distance

Up to 8km

3.5G Modem

Regions

Global

Bands

Quad−band,850/1900,
900/1800 MHz

SIM card

Nano-SIM

WiFi

802.11b/g/n

Bluetooth

4.0/2.1 EDR

Ports

RS-232, USB Type-C
Data

Corrections

NTRIP, RTCM3

Position output

NMEA, LLH/XYZ

Data logging

RINEX with events with update rate up to 20 Hz

Internal Storage

16 GB, 160+ days of
logging at 1 Hz
GNSS

Signals tracked

GPS/QZSS L1C/A, L2C
GLONASS L1OF, L2OF
BeiDou B1I, B2I
Galileo E1-B/C, E5b
SBAS L1C/A

N° of channels

184

IMU:

9DOF

Update rates

20 Hz GPS / 5 Hz GNSS

IMU

9DOF